Illegal, Unreported and Unregulated (IUU) fishing
How are illegal fishing and maritime security connected?
Free Download
Weekly Maritime Threat Assessment
The security tool for the maritime professional
Free Download
METIS INSIGHTS:

Illegal, Unreported and Unregulated (IUU) fishing
From Fishermen to Pirates – What can be learned from the IUU Fishing-Piracy Nexus?
IUU fishing is an overarching term which refers to a combination of illicit fishing practices. The Food and Agriculture Organization of the United Nations (FAO) defines illegal fishing as vessels ignoring jurisdictional boundaries, conservation and management measures adopted by regional fisheries organisations. Unreported fishing is any fishing practice not reported to relevant authorities, and unregulated fishing includes fishing that is inconsistent with a state's conservation and management responsibilities under international law.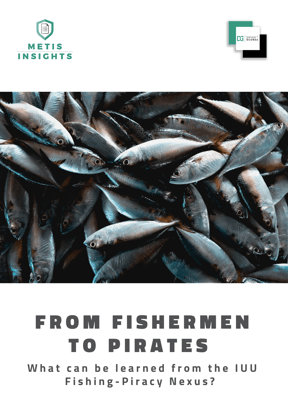 From Fishermen to Pirates – What

can be learned

from the IUU Fishing-Piracy

Nexus

?
IUU fishing is an overarching term which refers to a combination of illicit fishing practices. The Food and Agriculture Organization of the United Nations (FAO) defines illegal fishing as vessels ignoring jurisdictional boundaries, conservation and management measures adopted by regional fisheries organisations. Unreported fishing is any fishing practice not reported to relevant authorities, and unregulated fishing includes fishing that is inconsistent with a state's conservation and management responsibilities under international law.
Illegal, Unreported and Unregulated (IUU) fishing plays a role in creating, perpetuating, and exacerbating a range of security and environmental issues, including maritime crime and piracy. It does so by undermining efforts to preserve and conserve fish stocks, worsening socioeconomic pressure placed on coastal communities that depend on fishing practices to survive.
IUU is ubiquitous, accounting for 19 per cent of the worldwide reported value of catches, and costing €10 billion annually in lost fishing revenue. Organised crime groups can exploit illegal fishing vessels to carry out undercover activities. Among those, we find trawler crews forced to work under inhumane conditions, and in rarer occasions, drug trafficking and human smuggling. From a maritime security perspective, the links between the prevalence of IUU fishing and piracy can be seen in how piracy developed in Somalia, where IUU fishing was one of the key factors that drove local communities towards piracy. The economic damage inflicted by IUU fishing in these communities resulted in unofficial militia coast guards attacking illegal fishing vessels. For criminal gangs, this practice highlighted the opportunity to hijack commercial vessels, prompting the evolution of Somali piracy. Furthermore, the presence of IUU vessels in pirate hotspots provides pirate action groups with ideal targets for commandeering vessels as motherships for additional piratical activity.
IUU Fishing, Piracy and West Africa
West Africa witnesses the highest level of IUU fishing in the world, with 40 per cent of all fishing done so illegally, and IUU fishing is a central feature of the wider maritime security narrative in West Africa. Some reports estimate economic losses to be between $600 and $800 million annually in Nigeria alone. However, the Nigerian House of Representatives recently noted a lower number of $70 million each year. While this is a smaller number, the Nigerian House of Representatives conservative estimate is indicative of a serious problem. Discrepancies in assessing IUU fishing's numbers disrupt cooperation and a shared narrative to fight IUU fishing. Vessels from China, the European Union and Belize are well known for their IUU fishing activities in the Gulf of Guinea. China's distant water fishing fleet is particularly notorious for its extensive involvement in IUU fishing. In Nigerian waters alone, according to the Federal Department of Fisheries, there exist at least 450 active illegal Chinese fishing vessels subsidised by the Chinese government. Transshipments of loitering reefers support IUU fishing, making illegal fishing activity less traceable.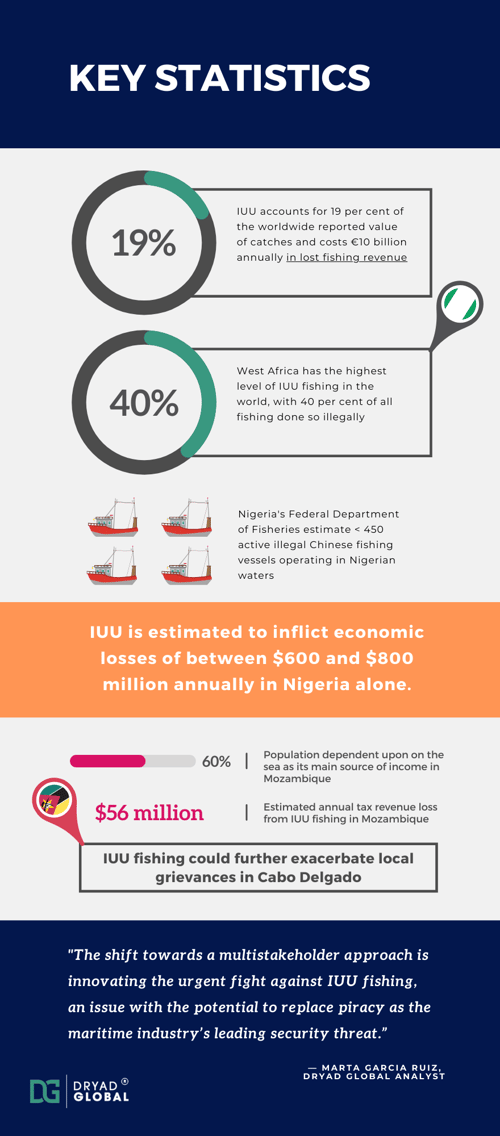 According to the United Nations Office on Drugs and Crime (UNODC), large-scale illegal fishing at an organised, transnational level hampers developing regions, such as West Africa due to their reliance on fishing in littoral waters. IUU fishing and piracy are intertwined phenomena which flourish in similar conditions. IUU fishing and piracy thrive in states and communities with weak governance, a lack of sophisticated policing and monitoring systems, and with socioeconomic adversities. Corruption, misreporting volume of catches, claiming shares of global imports and trade balance for fishery products represent features of IUU fishing. According to the IUU Fishing Index, other factors that enable IUU fishing are port vulnerability, which accounts for the number of fishing ports and port visits by foreign fishing or carrier vessels. Also, coastal vulnerability, related to the size of an EEZ, a community's dependence on fish for protein, and foreign vessels legally operating in an EEZ.
These enabling features have explanatory power at both a local and international level. On a global level, foreign, industrial-scale fishing fleets are displacing small-scale fisheries from the global seafood market. Research indicates that fish volumes caught using destructive and high-bycatch methods are robustly associated with piracy. Piracy drives away registered industrial fleets, creating a vacuum for IUU to fill, and IUU fishing sets up a context in which piracy blooms. Contrastingly, subsistence fishing or artisanal fishing shows a negative correlation with piratical crimes, such as hijacking. Fragile states with prolific economic activity correspond to precursors of piracy since it prompts fishers to resort to illegal fishing due to the lucrative nature of such activity.
Where Lies the Responsibility: A Multistakeholder Reality
Since the 1990s, the international community has adopted several global agreements to address IUU fishing. The International Plan of Action to Prevent, Deter and Eliminate Illegal, Unreported and Unregulated Fishing (IPOA-IUU), is a FAO voluntary instrument that sets basic standards for the conservation and management of fisheries' resources, and defines common principles for national and regional initiatives to curb illegal fishing. It targets state actors and non-state actors (fishing communities and industry), but countries implement and fund it. However, many states, whether they be a vessel's flag state or a coastal state, fail to comply with such principles and therefore, other organisations take responsibility.
Regional fisheries (RFO), which are international organisations focused on specific regions for sustainable management of fisheries, play the most crucial role in stopping IUU fishing, as they regulate the most valuable stocks of fish. Collection and dissemination of information, identification of vessels and detection of irregular state behaviour are tools at their disposal that must be utilised effectively. Intergovernmental cooperation could also improve trans-border monitoring of foreign direct investment in the fishing sector. An example of this can be seen in the Gulf of Guinea, where the Fisheries Committee for the West-Central Gulf of Guinea (Liberia, Côte d'Ivoire, Ghana, Togo and Benin and Nigeria) launched the "Regional Monitoring, Control and Surveillance Centre" to integrate investigative approaches into fisheries crimes. Vessels operating under such regional regulations are also obligated to carry out more aggressive enforcement. In May 2021, the Nigerian House of Representatives urged the federal government, the Nigerian Navy, and the Nigerian Maritime Administration and Safety Agency to intensify their fight against IUU. The Nigerian Federal Government was also urged to introduce a legally binding framework to check excessive fishing or overfishing in the region through the Gulf of Guinea.
The success of greater cooperation among vulnerable states diminishes due to the insufficient capability for monitoring, control, and surveillance in their maritime jurisdictions. From this state's perspective, creating incentives and enforcing penalties constitute more feasible instruments, however high levels of corruption hinder such actions and other organisations are also involved in fighting IUU fishing, besides state actors. The same regional fisheries work with NGOs, regional working groups, task forces and other voluntary arrangements such as IUU Watch and Stop Illegal Fishing. In the private sector, organisations such as TRAFFIC, wildlife trade monitoring network, World Wildlife Fund (WWF), and Organisation for the Promotion of Responsible Tuna Fisheries (OPRT) also provide a valuable contribution on IUU fishing through advocacy, intelligence, international alliances such as the initiative against illegal toothfish fishing, and alternative approaches for fighting IUU fishing.
Looking towards Mozambique: What can we learn?
Mozambique's Cabo Delgado region is an area where the phenomenon of IUU fishing contributing to the evolution of piracy is of particular concern. Like West Africa, Cabo Delgado presents a complex security environment, with community grievances harbored against the lucrative offshore LNG fields from which locals claim little benefit combined with the presence of an ongoing insurgency. The Cabo Delgado region is also at risk from following the notable evolution of Somali piracy more than a decade ago, which saw the combination of onshore instability and IUU fishing along Africa's east coast perpetuate the problem of offshore piracy.
In addition to Mozambique's onshore instability, the Ministry of the Sea, Inland, Waters and Fisheries stated that Mozambique loses $56 million in tax revenue annually from IUU fishing. With more than 60 per cent of the country depending heavily on the sea as its main source of income, IUU fishing could further exacerbate local grievances in Cabo Delgado. This could push fishers towards the Islamic State affiliated militant group ASWJ (Ahlu Sunna Waljama'a), which has launched several attacks on coastal cities since its inception. During ASWJ's attack on Palma in March 2021, the group hijacked a vessel before opening fire on a second commercial patrol vessel operating at an LNG field. Significant onshore instability coupled with the repercussions of IUU fishing could create an increasingly volatile maritime security environment.
ASWJ has demonstrated a level of intent and capability which Dryad Global has previously warned could potentially lead to the emergence of piracy and the targeting of commercial vessels. Coupled with the repercussions of IUU fishing, the onshore and maritime instability amplify each other, compounding upon an already-fragile security environment. With locals reporting that foreign vessels engage in illegal night fishing and waste disposal, Cabo Delgado is following a similar trajectory to Somalia. Attacks on IUU fishing vessels in the short-term and attacks on commercial vessels in the medium to long-term have therefore become a realistic possibility.
Though IUU fishing is not the only driver of piracy, it compounds upon the multifaceted challenges in addressing piracy and maritime crime. IUU fishing has previously been an exacerbating factor in the development of piracy in African coastal communities. Consequently, additional national, regional, and global frameworks with sufficient capacity should commit resources to fighting IUU fishing. In the absence of such efforts, IUU fishing could further destabilise potential future piracy hotspots, such as Cabo Delgado, and ultimately further jeopardise the safety of seafarers.
It is, therefore, imperative that the nexus between IUU fishing and piracy is not only acknowledged by seafarers, maritime security professionals and governments in regional hotspots, but also acted upon. Legal responsibility for combatting IUU fishing may fall to states and their traditional security paradigms. However, in practice, there exists a more diverse set of actors involved, including NGOs and multilateral forums. All of these actors share a common purpose: ending IUU fishing. The shift towards a multi-stakeholder approach is innovating the urgent fight against IUU fishing, an issue with the potential to replace piracy as the maritime industry's leading security threat.
Latest West Africa Security News
Featured in Channel16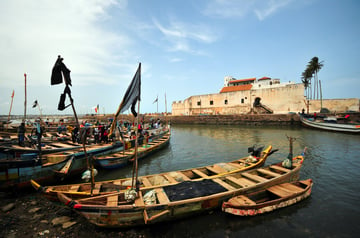 Africa's coastal nations are grappling with a surge in illegal, unreported, and unregulated (IUU) fishing, piracy, and drug smuggling, transforming African waters into a hub for transnational crime, a...
Free Download
Weekly Maritime Security Threat Assessment
The free infographic tool for maritime professionals