West Africa
Gulf of Guinea Piracy
Free Download
Weekly Maritime Threat Assessment
The security tool for the maritime professional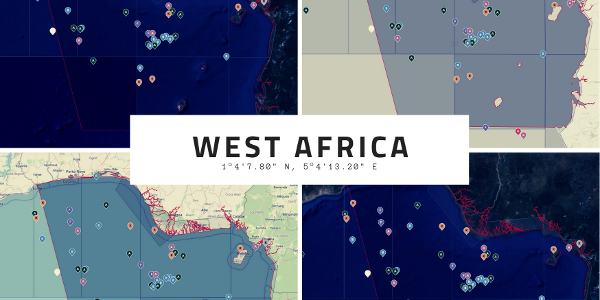 Gulf of Guinea Piracy
Security challenges in West Africa have created the ideal conditions for Gulf of Guinea piracy to flourish.
In a letter dated 10th February 2021, the IMO secretary-general Kitack Lim wrote that piracy in the Gulf of Guinea posed a "serious and immediate threat" to crews and vessels operating in West African waters. A fatal incident involving a container ship in late January 2021 acted as a catalyst for international engagement to help improve safety for ships and their operatives.
The surge of piracy incidents including robbery, hijack and kidnap have led to the international community, PMSC's and regional voices to suggest various solutions to tackle maritime piracy in the region.
Potential solutions include:
Coordination between vessels

Affected states need to exchange and share information on what is happening on their coastlines

Joint training activities are required so that countries can develop procedures and improve their interoperability

Countries must look to develop strong legislation and prosecute maritime criminals

Countries should also set aside funds to build local security capacity

Centralised reporting and response agencies in the Gulf of Guinea

Collaboration with Private Maritime Security Companies

Long-term investments in social-economic programs aimed at tackling insecurity in coastal communities
Maritime Security Context
The most significant risk to commercial operations in the Gulf of Guinea are kidnap for ransom incidents. Kidnapping and ransom are complex operations for criminal organisations requiring significant resources and freedom of movement both on and offshore. The maritime security environment in West Africa is currently defined by three key trends that indicate the capabilities and intent of pirate action groups.
Incidents occur further offshore
Piracy incidents are increasingly occurring further offshore usually outside of the EEZ of NIgeria evading the traditional footprint of the navy and PMSC-operations. This highlights the importance of an integrated approach to tackling piracy that involves extensive regional cooperation and onshore development projects. In absence, increased capacity by navies is likely to result in the re-emergence of piracy elsewhere.

Incidents are increasingly violent

In 2020 80% of the kidnapping incidents involved guns.

Larger numbers of seafarers are being abducted

In 2021 alone, there have been three incidents where more than 14 crew members were kidnapped. This is indicative of pirates operating with a substantial degree of capability and intent in the Gulf of Guinea.
What is happening in West Africa?
Poverty, lack of education and high youth unemployment, poor governance and weak law enforcement are breeding grounds for Gulf of Guinea pirates and these are social factors that cannot be ignored if maritime piracy in the region is to be tackled effectively in the long-term. Added to this, Nigeria's inability to effectively govern its territory beyond the urban areas and oil facilities is at the heart of conflicts in the Niger delta and by extension the Gulf of Guinea.
Oil and politics in the Gulf of Guinea

The Gulf of Guinea covers 11,000 square kilometres (4,247sq miles) and stretches from Angola to Senegal.
It is one of the world's most important shipping routes for both Gulf of Guinea oil exports from the Niger Delta and consumer goods to and from central and southern Africa. There are 1,500 fishing vessels, tankers and cargo ships navigating the gulf's waters on a daily basis. While attacks take place all the way from Ivory Coast down to Congo-Brazzaville, maritime piracy emerges almost exclusively from Nigeria's oil-rich Niger Delta.
With unemployment rates high in the coastal regions of West Africa, weak security and a lack of capacity and capability to enforce maritime laws, the Gulf has become a hotspot for piracy. Rather than stealing oil cargo, maritime piracy in the gulf has evolved since the 2014 oil price crash. Maritime piracy now focuses on the more financially lucrative business model of kidnapping seafarers for ransom. Oil no longer yields a good enough profit margin for maritime criminals in the region.
The economic cost of piracy

Attacks are pushing up the cost of insurance while endangering the lives of crew members. Shippers want an international naval coalition to crack down on piracy, but such support is limited because the value of shipping isn't as great as it is off the Horn of Africa, the approach to the Suez Canal. One exception to this is Denmark, a country that has recently committed to deploying a frigate to the region.

While it is difficult to pinpoint the exact cost of piracy (shipowners are often unwilling to disclose ransom sums and security costs), a 2017 report by non-profit Oceans Beyond Piracy found that attacks on ships cost US$818.1mn that year, nearly half of which was spent on maritime security. Since then, there has been an upward trend in piracy incidents and economic costs involved is likely to have increased as well. Piracy increases the cost of international maritime transport through an increase in insecurity regarding goods deliveries. There is robust evidence to indicate that maritime piracy reduces volumes of trade. The international cost of piracy in terms of trade destruction is estimated to be 28 billion dollars.
Free Download
Weekly Maritime Security Threat Assessment
The free infographic tool for maritime professionals
Anti-piracy laws in Nigeria
One obligation of the contracting parties of the Lomé charter is to harmonise its national legislation with relevant international legal instruments. The Nigerian government has given effect to this requirement through the SUPMOA (Suppression of Piracy and other Maritime Offences) act 2019, which aims to suppress piracy, armed robbery, and other unlawful acts in the maritime domain. These crimes become punishable with life imprisonment and payment of fifty million Naira (roughly £100k), in addition to restitution to the owner. Till date, the amount of convictions remains limited with the first conviction being that of a private company involved in the transfer of a ransom payment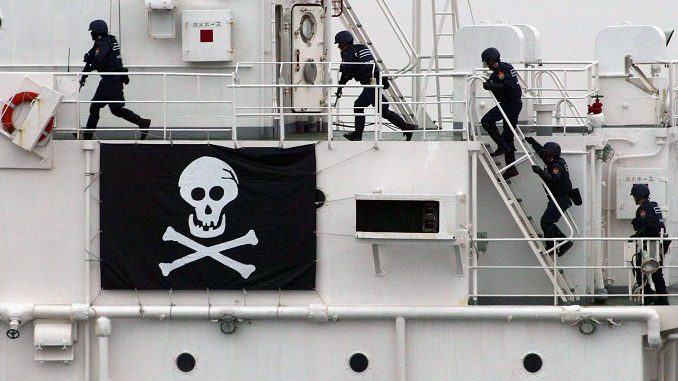 Nigeria Maritime Administration and Safety Agency (NIMASA)
The Nigerian Maritime Administration and Safety Agency, NIMASA, provides maritime services in Nigeria and is focused on developing indigenous capacity to respond to maritime security threats.
Its areas of focus include effective Maritime Safety Administration, Maritime Labour Regulation, Marine Pollution Prevention and Control, Search and Rescue, Cabotage enforcement, Shipping Development and Ship Registration, Training and Certification of Seafarers, and Maritime Capacity Development.

The Agency was created from the merger of the National Maritime Authority and Joint Maritime Labour Industrial Council (former parastatals of the Federal Ministry of Transport) on the 1st August 2006. NIMASA regulates the industry through implementation of:
● Nigerian Maritime Administration and Safety Agency Act 2007
● Merchant Shipping Act 2007
● Coastal and Inland Shipping (Cabotage) Act 2003
The Agency was established primarily for the administration of Maritime Safety Seafarers Standards and Security, Maritime Labour, Shipping Regulation, Promotion of Commercial Shipping and Cobatage activities, Pollution Prevention and Control in the marine environment, the Agency also implements domesticated International Maritime Organization (IMO) and International Labour Organization (ILO) Conventions.
The Deep Blue Project (DBP), formally known as the Integrated National Security and Waterways Protection Infrastructure was launched in 2019 and aims to address insecurity and criminality in Nigeria's territorial waters and EEZ. DBP is a joint effort by the Nigerian Maritime Administration and Safety Agency (NIMASA) and the Nigerian Navy (NN). The $195 million investment include the acquisition of assets, interagency information sharing, and enhanced training of security services and is procured by Israeli firm HLSI-Blue Octagon. The Nigerian government had announced at the end of last year that they expected the deliveries of two special mission vessels, two aircrafts, two helicopters, four UAVs, 16 armoured vehicles and 17 fast interceptor boats to be completed by March 2021, delaying the project for a fourth time. Though some of the investments have yet to be deployed, substantial deliveries have been made and once fully operational this project is likely to lead to a reduction in maritime crime and piracy. This project must however go hand in hand with onshore investments and regional cooperation in order to have a sustainable impact.
Latest Persian Gulf Security News
Featured in Channel16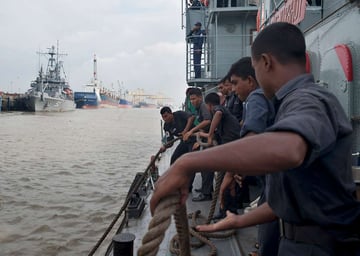 Nigeria, Benin Republic, Togo, and Niger Republic have joined forces to inaugurate "Operation Safe Domain II," a collaborative effort aimed at eradicating piracy and maritime crimes in the Gulf of Gui...
Free Download
Weekly Maritime Security Threat Assessment
The free infographic tool for maritime professionals